If your IoT application requires a variety of sensors and powerful IoT connectivity processors, as well as fast access to working prototypes, TE ConnecTIvity (TE) sensor sandwich panels and SD 600eval are excellent solutions.
Introduction
The sensor is the eyes and ears of the Internet of Things (IoT). Without sensors, where does the information driving big data analytics that are critical to IoT applications come from? Environmental sensors help drive energy-efficient heating and cooling in smart buildings, while sensors used to test humidity and soil conditions in large-scale agricultural applications test promote effective plant protection, pest detection, harvesting, and even transportation. The opportunity to transform sensor data into new business and business models is growing, so getting your new ideas to market first is probably the most important element of the success of new IoT products.
One of the best ways to speed time to market is to use existing development hardware with work code and advanced operating system and application support. For IoT applications, this usually means getting a standard processor board that is already running Android, Linux, or Windows IoT Core. A sensor expansion board with a wide range of sensor functions (environment and positioning) compatible with the main processor board will provide you with a complete system for developing applications. Using the Arrow SD 600eval processor board and the TE ConnecTIvity (TE) sensor mezzanine board is probably the solution you have to develop an IoT solution in record time.
Speed ​​up your design with sensor development boards
One of the quickest ways to start a design is to start using a development board that carries the sensors you need for your design. This allows you to start software development as early as possible before you get the final shape of the target hardware. As the standard size of development kits (such as the popular 96board standard) increases, it is much easier to find motherboards (such as Arrow SD 600eval) that have the processing power, onboard memory, and peripheral component sets required for complex IoT applications. TE's Sensor Shield Development Board (shown in Figure 1 below) accommodates three popular sensor devices in a standard shape that is compatible with the 96board standard: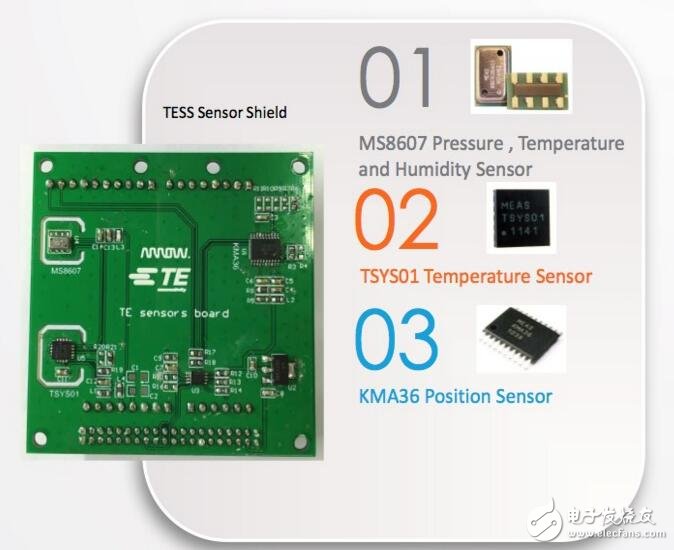 Figure 1: TE's Sensor Shield Development Board (graphics from a mezzanine PDF file)
Sensors that can be used for TE sensor shielding include the MS8607 pressure, temperature and humidity sensor, the TSYS01 temperature sensor, and the KMA36 rotary and linear position sensor. These sensors use a standard serial interface that allows them to easily connect to a microcontroller, as well as the ideal advanced features required for IoT applications.
Compact MS8607 combination sensor
Small size and low power consumption are important requirements in many IoT applications. Combined sensors that provide pressure, humidity and temperature in a small package may be ideal for applications that limit size and power consumption. The TE MS8607 is available in an ultra-small 5 x 3 x 1 mm QFN package (shown in Figure 2 below), which is compact and offers a wide operating range: 10 to 2000 mbar pressure, 0% RH to 100% RH humidity and -40 To 85 oC temperature. In addition, the TE MS8607 offers excellent resolution for common IoT applications of 0.016 mbar, 0.04% RH and 0.01 oC. The power supply operates over a wide range of voltages from 1.5V to 3.6V and supports low power operation. The I2C serial interface makes it easy to connect the MS8607 to a standard microcontroller.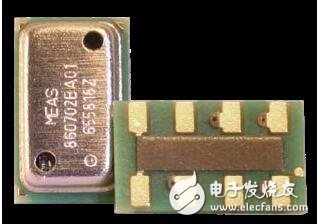 Figure 2: Compact TE MS8607 combination sensor (5 x 3 x 1 mm QFN package)
The high-resolution pressure function is linearly combined with high pressure, humidity and temperature (PHT), making the MS8607 an environmental monitor (such as altimeters for smartphones, tablets and PCs) and PHT applications (such as heating, ventilation and air conditioning (HVAC) ), weather stations, precision 3D printers, household appliances and humidifiers are ideal. The MS8607 is built on the proven MEMS technology that has been used for more than a decade.


The 58MM mini embedded thermal receipt printer has a small appearance and is generally installed in self-service terminal equipment to support the secondary development of major systems. There are two types of manual tearing and automatic cutting. It is also suitable for various terminal equipment, such as medical testing equipment, intelligent classification equipment, industrial testing equipment, intelligent vehicle-mounted printing list equipment, etc. At the same time, it also supports the secondary development of MCU, Android, Raspberry Pi, windows and other systems.
58Mm Embedded Bill Printer,58Mm With Automatic Paper Cutting Printer,58Mm Receipt Printer,58Mm Embedded Label Printer
Shenzhen Geyi Technology Co., Ltd. , https://www.gy-printer.cn