The rapid spread of Internet technology has introduced Microsoft Office software, social media, scanners, smart phone applications and PDF documents, bringing convenience to the work of professionals. However, paper prints still occupy a place, and people working in the office are still using paper products. Compared with the past, the use of paper products may be less frequent, but for many people in the workplace, writing and reading based on paper products still have an irreplaceable role in the electronic screen.

David Allen, a productivity researcher, said that paper products are more "existent". He pointed out that paper products are real existence, which gives you a kind of task urgency, while electronic documents are more hidden in computers and easily overlooked. Because of this, he has some customers ready to return to the paper age and use paper products for project planning.

Allen is the author of the best-selling book, "Although I Do It: The Art of Pressureless Work" (Getting Things Done). He said that although computers are now used for writing, many times they still like to use paper and pen to record. "This allows I concentrated my energy, "he said.

Paper prints also have an important function. For longer textual content, paper products make it easier for readers to understand the context between paragraphs. In addition, people still prefer to use paper and pen for recording during the conference.

Richard HR Harper is a Principal Investigator at Microsoft's Cambridge Research Institute. He and Abigail J. Sellen co-authored the bestselling book Myth My Office (paperless). Myth of the Paperless Office), he believes, reading long paper content with paper products "can better understand the arguments contained in it than the electronic reading experience."

Harper pointed out that today, people in the workplace often need to browse multiple different files at the same time, and then create new files. This process is not simple. Users can use multiple electronic devices for content analysis. However, in longer documents, users need to browse multiple key points back and forth. Then it is more efficient to use paper products for reading.

Harper said that a study published in 1997 showed that paper-based books are easier to read than online reading. Of course, this investigation took place before the invention of the e-reader, after which screen-reading technology has grown considerably.

Harper is currently conducting a study on e-readers. He said that in the future, people in the office will make more use of e-readers and other devices to read and write, but this will not make reading more efficient.

Steve Leveen, co-founder and CEO of Levenger, believes that digital technology makes social communication and content sharing easier, and paper-based reading helps. The company sells high-end notebooks, diaries and pens, as well as laptop desks and smart phone covers, to provide users with a paper-based aesthetic experience. Levin said that paper products are "more presence and more beautiful. Just like we enjoy food and wine, we can also enjoy paper products, writing, and sensory impact."

He said, "Although we are gradually making compromises with the increasingly virtual world, paper products make us feel that we are real entities." Although people always complain that handwriting is too slow, but this thinking and Creativity is good. "Paper writing allows us to slow down and think, consider, modify, and re-create."

Harper believes that electronic writing pens can also "make people pay more attention to words and articles when writing." However, electronic writing pens still cannot replace the physical writing experience. The advantage of using an electronic writing pen is that it saves paper use and is environmentally friendly.

GreenBiz Group is an American environmental commerce company that aims to increase corporate environmental responsibility. Joel Makower, the company's chairman and executive editor, said, "We want to reduce the use of paper and recycle paper as much as possible."

McCall is accustomed to writing on a computer because he has cognitive problems with his manuscript. He feels that computer writing is easier to document than writing with paper. He said, "In the real world, I don't know how to manage these files. It's much easier on computers."

However, he further stated that some people may just be the opposite. Indeed, paper writing still has a place in the office. Although McCauer uses computers to accomplish most of his work, he still needs to use paper prints in team work. "Although I finish my work on my own computer, I still read photocopies," which is more conducive to understanding content.
Cheap PCB Prototype -

Manufacturing And Assembly Services
What is PCB prototype and why it should be used

PCB prototype refers to the trial production of Printed Circuit Boards before mass production. After the electronic engineer designs the circuit and completes PCB Layout, the PCB gerber file, etc. is provided to the PCB manufacturer for small batch trial production. The purpose is to verify the correctness of the design and to test individual functions.


The number of PCB prototypes is usually not specified. It may be one piece, ten pieces or other numbers.

After confirming that PCB prototype production and testing are all right, small and medium batch production and mass production can be carried out and electronic products can be put into the market.


PCB prototype manufacturing can be divided into two ways: regular PCB Circuit Board factory and professional PCB prototype manufacturing company.

Regular factories produce PCB prototypes in order to have batch orders, so of course they want to return orders; PCB prototype manufacturers themselves only do prototypes or small batches, if there is a batch orders generally can not do.

In terms of quality assurance, it is certain that regular factories do better than PCB prototype manufacturing companies. Prototype manufacturing companies are One-Hammer Business. After prototype production is completed, prototype will be sent to you, and then payment will be received. they will not normally carry out flying needle testing. If the quality is not up to you, you have to retake it. Regular factories generally do flying needle testing, from material to process are meticulous and professional, so the quality is often successful once.

A PCB project involves a lot of things, if a product has problems in a certain link, it will easily affect the product development progress; PCB Board making is also the same, generally a project, designed PCB will go to prototype manufacturing, do a few boards for testing, if the test passes, all OK, then you can find batch manufacturers in the future. Direct mass production, the price will be much lower than the prototype manufacturer, prototype manufacturer prototype production is mainly highlighted fast.


---
What are the benefits of PCB prototypes?

Before mass production, we recommend that you use PCB prototype design services for functional testing of new products. The benefits of developing PCB board prototypes include:

If there are any errors, quickly test and correct the design - after waiting more than a week for the board, you will be anxious to get them into your application. You can do this when you pre-test your design with a PCB prototype.

Detection of any early potential design defects-PCB prototype design service allows you to discover any design problems within a few days and correct design errors in time before putting them into production.

Order a small amount of production, MOQ only has five boards if necessary - save money and reduce risk by delaying large orders until you know you have the type of sheet you need.

Benefit from lower production tolerances - It offers a clear indication of how well your PCB will perform

Once the Prototype Board can meet your quality and performance requirements, you can carry out comprehensive production. Then, we will transition from PCB Prototype Board service to standard PCB Manufacturing service, providing stricter production tolerances and more advanced options, including free manufacturing design (DFM) checks, to detect potential problems that may reduce the quality of PCB.

While it may be tempting to simply order your full printed circuit boards and decide you`ll deal with any design flaws that arise as they come, it`s rarely the most efficient solution. You may get the boards out sooner, but if something goes wrong, it could prove to be a lot costlier and more time-consuming than taking an extra few days to test a prototype.


---
Using JHY PCB Rapid Prototyping Service saves time and money in the long run

PCB prototyping is a best practice method used worldwide to validate the quality of design before continuing. In the past, some companies might not have time to develop Prototype PCB , waiting for assemblers to put PCB prototypes together and test them. However, due to the rapid prototyping of PCB provided by JHY PCB, this is no longer a problem. You can send your prototype PCB board design Gerber file and production requirements in a week or less, and have a Fast PCB Prototype . It will give you enough time to test the PCB prototype board and prepare for your regular production operation.


---
PCB Prototype and PCB Fabrication Manufacturer and service
What is PCB fabrication?

Printed Circuit Board (PCB) fabrication is the assembly method for circuit boards used in electronic and computer devices. The layers of the board are put together along with the specific surface pattern so it can be used in electronics manufacturing.

JHY PCB, China PCB Manufacturer offers PCB prototype and fabrication service with 100% quality guarantee, offers 24 hours Quick Turn PCB prototype and Reliable small-batch PCB (Low Volume PCB Prototyping) production, affordable price and best service.


---
Prototype PCB Service vs. Standard PCB Service
Using PCB prototype services:
Board for design review or pre-production quality testing - Our pcb prototype service is the perfect way to ensure that there are no errors in design before entering mass production.
Fast PCB prototype Turnaround - Fast PCB prototyping means that you can quickly access circuit boards.
With 8 or more layers of boards - As we are trying to get your board back to you as soon as possible, we provide rapid PCB prototyping for boards with 8 or more layers.
FR-4 board - Your PCB prototype will use standard FR-4 material.
If you need, please choose us to provide you with standard PCB manufacturing services:
Small and medium batches and mass production - Once you know that your design is effective, you can contact us to obtain standard PCB services for full production in your application.
Slightly longer turnaround time - Since these are the boards you will actually be using, it takes a little longer to make sure we get everything just right. However, now that you have tested the design, you can go right into your projects once you get your boards.
Boards with up to 32 layers - We have much more flexibility with materials and layers once we have the time to develop your full boards.
FR-4, Aluminum PCB , Metal Core PCB , Flexible PCB , Rigid Flex PCB , Double Sided PCB , PCB Stencil , or other types of boards.
---
Prototype PCB Assembly Services
JHYPCB offers Custom PCB Assembly to go along with our high-quality fabrication and component procurement services in China. This includes fast, affordable PCB assembly Prototype service where we take your unique PCB designs, prepare them for the assembly process and perform comprehensive testing to ensure they meet your precise performance requirements. We can provide a complete turnkey PCB Prototype assembly featuring a one-stop shop approach that saves you time, money and hassles.
Benefits of prototype circuit board assembly
Printed Circuit Board (PCB) prototypes are used to reduce the number of errors or defects in the design of a circuit board at an earlier stage. This helps save a lot of costs that otherwise would be spent on rectifying those defects. Thus, most companies prefer to get a prototype PCB assembly servces prior to getting their final design of circuit boards manufactured.
---
Cheap Fast PCB Prototype
As a China Prototype PCB manufacturer, We are not only offer high-quality products and services, We also provide Cheap and Fast PCB Prototype.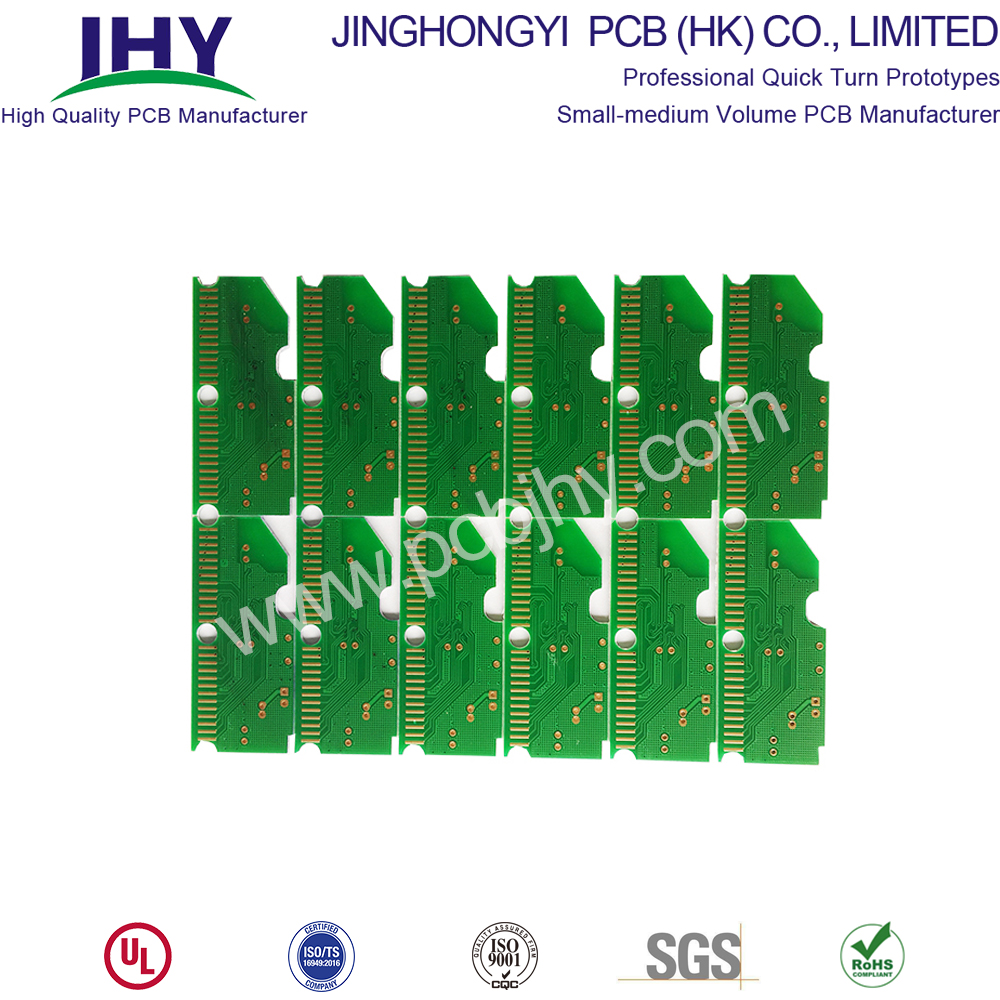 JHY PCB can produce Fast PCB Prototype correctly & quickly& cost-effectively. Various options of lead time can be offered, such as 24 hours,48 hours,72hours, etc. We always make our promise happen! Once you release first Prototype Board order, you will find out that we are the right partner you are looking for.
Advantages
Discover potential design errors in the beginning.

Proto PCB

can help you to test design rapidly, so any mistake can be revised at once.

Quick turn PCB

, shorter time.

Smaller quantity, MOQ.

Lower cost.

Flexible reaction.
Please see what we can do in our PCB Prototype Board manufacturing capability below. Prompt reply will be offered for your any questions. Accurate quotation will be subject to your Gerber, specifications and delivery time.
| | |
| --- | --- |
| Item | Manufacturing Capability |
| Number of Layers | 1 - 8layers |
| Order Quantity | 5pcs - 100pcs |
| Laminate | FR-4 Standard |
| Maximum PCB Size(Length x Width) | 600*1000mm |
| Board Dimensions tolerance | ±0.1mm - ±0.3mm |
| Board Thickness | 0.4mm - 4mm |
| Board Thickness Tolerance | ±0.1mm - ±10% |
| Copper Thickness | 1-6OZ |
| Min Tracing/Spacing | 2mil/2mil |
| Solder Mask Color | Green, White, Blue, Black, Red, Yellow |
| Silkscreen Color | White, Black |
| Surface Finish | HASL, LF HASL, ENIG |
| Test | Flying probe, Testing Fixture |
Additional Information

Prototype Metal Core PCB
PCB Prototype Manufacturing Capability
Double Sided PCB Board Prototype
HDI Technology PCB Prototype
Metal Core PCB Prototyping
Prototype PCB SMT Stencils
Rigid Flex PCB Prototype

PCB Prototype
Prototype PCB,Prototype Board,PCB Prototype Board,Custom PCB Prototype
JingHongYi PCB (HK) Co., Limited , https://www.pcbjhy.com