[Text / high-tech LED reporter Gao Jinyu] For
20 years, for a person, it is time to wait for the time to go to the pursuit of dreams; 20 years, for a company, from toddlers to bloody time.
Focusing on precision ceramics, Foshan Kangrong Fine Ceramics Co., Ltd., a high-tech enterprise that integrates R&D, manufacturing, sales and service, and operates in a group mode, has been in the same boat for 20 years. Hand in hand, 20 years of hard work, 20 years to carry the dream, ushered in the "dream of casting, happy sailing" 20th anniversary of the celebration of a beautiful moment.
After 20 years of hard work, Kang Rong has experienced the baptism of the financial tsunami and stood still, but instead rushed forward. In the 2008 financial tsunami, Kang Rong entered the LED industry against the market and became an expert in LED ceramic thermal solutions. 20 years of hard work, representing quality, quality is the bottom line of survival, Kang Rong chairman Xue Xirong once said: "Quality is the bottom line of survival, can not be crossed, Kang Rong has always adhered to meet customer needs for Premise, we can't meet the customer's requirements, we are free to talk."
On November 6th, on the occasion of the 20th anniversary of the company's establishment, Kang Rong will hold a 20th anniversary celebration in Foshan. Xue Rongrong, Chairman of Kangrong Group, Dr. Zhang Xiaofei, Chairman of Gaogong LED, and Mao Zemin, a famous economist, will attend the event. This celebration and a keynote speech.
At the same time, sponsored by Kang Rong, the "2013 (Kangrong Cup) National LED Heatsink Design Competition" hosted by Gaogong LED was also launched on the occasion of a major celebration. This heat sink design competition aims to explore the design of the heat sink body in the LED industry, and let the R&D designers who have a strong interest in LED lighting explore the design direction of the heat sink material and drive the LED heat sink material.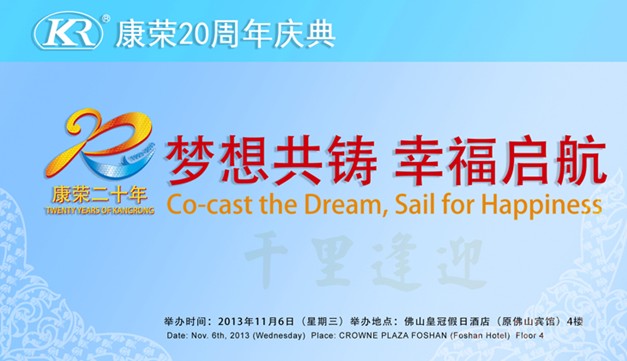 Time: Afternoon of November 6, 2013 Venue: Crowne Plaza Foshan Hotel
Lecture forum
Schedule
schedule
Speakers
13:30-14:00
Guest sign
Moderator: Dr. Zhang Xiaofei, Chairman of Gaogong LED
14:00-14:10
Opening speech
(Dr. Yu Weidong's speech)
14:10-14:40
The Application of Inamori Philosophy in Enterprises
Chairman of Kang Rong Group Xue Xirong
14:40-15:00
Humanities Management Seminar
Management scholar Luo Weiguo
15:00-15:20
Development history and trend of LED cooling kit
Kang Rongguang Tang Haihong Director
15:20-15:50
LED lighting industry situation and trend analysis
Gaogong LED Chairman Zhang Xiaofei
15:50-16:00
Ask a question
Zhang Xiaofei Yu Weidong Tang Haihong
16:00-17:20
Humanities economic lecture
Famous economist Mao Yuzhen
Kang Rong 20 Years Anniversary Celebration
18:00-18:10
Leader of Kangrong Group
Chairman Xue Xirong
18:10-18:20
2013 (Kangrong Cup) National LED Heatsink Design Competition Launch Ceremony
Dr. Zhang Xiaofei, Chairman of Gaogong LED, Xue Xirong, Chairman of Kangrong Group
18:20-21:30
Kang Rong 20th Anniversary Celebration Dinner

10-layer Mobile Phone PCB Board, Base Material: FR4 TG180. inner/outer copper thickness 0.5/1 oz. Immersion Gold surface treatment with green colour solder mask. Board thickness 1.2 mm. Min.line width/Min.line spacing 0.75/0.75 mm. 4-up connect with the routed&mouse bit, 100% E-test pass. Have L1-L3, L8-L10 blind micro vias and L3-L8 buried holes. Vias in pad need to be filled with resin and copper cap. the distance between BGA PIN spacing only 0.4 mm. With impedance control.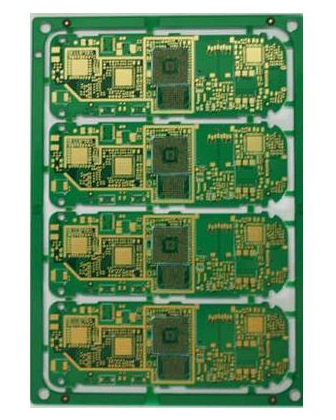 Mobile Phone PCB Board
Mobile Phone PCB Board,PCB Board,Printed Circuit Board,Mobile Phone Circuit Board
Orilind Limited Company , https://www.orilind.com